I dropped my in laws off at the airport this morning on my way to work. As much as I struggle while they are visiting, it is again proof that about the time I adjust to having people in the house is when it is time for them to go. In some ways I wish they stayed longer so that the time that they are here doesn't feel so precious I can't go off and do my own thing when I need a break and I can have time to adjust and just enjoy having dinner made. I have a great time while we're playing cards or out and about. Well, maybe less so at
Bass Pro
, Toronto Sportsman's Show or Canada Computers. Not much that really appeals to me at any of those places. Particularly the TSS, it was too big to hang out by the live fish tanks or falcon exhibit and find them again because they didn't know what was going to catch their eye next and none of us really knew the layout.
The queen bed arrived on Monday afternoon, some trading was done to max out the guest room bed. We have kept the frame and box spring from that room but moved our mattress over. I didn't sleep all that well the first night on our new bed. I guess because it has independent support or whatever the term is (like the bowling ball commercial) there is a little ridge down the middle. I woke up a few times in the night not sure where Mr. Lina was and feeling an uphill battle to find him. Last night was a more solid sleep. I will say that bed is super quiet. This also helps in ah, dealing with um, various forms of stress while having guests in the house. ;)
The weather has been absolutely beautiful the past week. However... my Tues/Wed client has horrible air circulation. In fact their air conditioner is broken and so old that a part has to be made for them because no one makes air conditioners like theirs anymore. That won't be fixed until mid-April apparently. Yesterday was 22C outside, 28C in someones office (not that hot at my cubicle, but hot enough). They set up 6' fans all over our area so it's like working with a plane taking off in the cubicle beside me. I saw this coming from past summers here so I dressed accordingly. Yesterday I wore Kwik Sew 1595. I don't wear it with this tie belt, I have an elastic belt I made but I don't have a picture of the outfit together. Anyhoo, I like that although this dress is polyester knit (similar in weight to my Renfrews), there is no sleeve (the cap is just a wide shoulder, there is no under arm seam). With air flow at the arm pits and a loose fit, it works well in summer without hose and winter with tights/boots.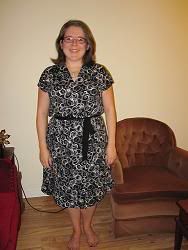 And today it's Lekala 5432 in a really light rayon if I remember right. That sweater will be coming off this afternoon.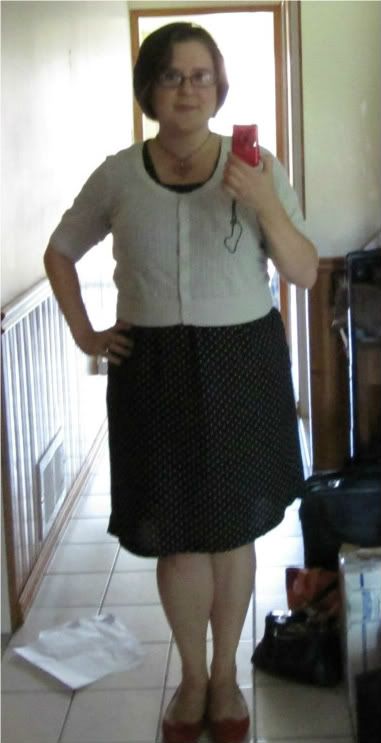 Jeez, that reminds me how long it's been since I got my hair cut, it's in a pony tail today. I really should do something about that.
Warm weather has me digging out summer shoes. Those cute red flats above? I can only find one. I'm sure I had a pair of open toed black heels for work, can't find them. I wanted to wear some super casual sandals to bowling, I could only find one. Is our hall closet like the dryer with socks? Eating one shoe at a time?
I think purchasing a dress form will be put on hold for a bit. My car has a whine when moving that I have been trying to pretend is not there but it's past ignoring now. Add oil change, tire rotation and I found out Monday the A/C doesn't work. This will not be a small bill. Also, the FET will likely run about $1,000 depending on how the clinic discounts or prices have changed, how much medication is covered and added transportation costs. We can cope with both bills, but I don't want a dress form enough to shoulder debt for it so we'll see how those bills go first. I suspect my savings will go to one of those two and I'll start setting aside money again. I've managed just fine so far and if I really want it, there is always the duct/paper tape options.
Tonight, I get to enjoy some Shepard's Pie my MIL made for dinner and a quiet house. A former coworker is going to call me up. She's leaving a place I'd like to work so I'm getting the inside scoop as to what is going on over there and if I really would like to go there. Location isn't everything if the environment has changed from what it was. Lots of movement creates positions I could move to but it also may change what I liked about it.
Perhaps I can move some of the crap we hid in my sewing room and start planning my next projects. It was mom's birthday on March 10th and while I had a long talk with her on her birthday, I didn't have a gift ready. I think Renfrew would suit her well so I offered to make one and let her pick from a few suitable fabrics I had in stash. That will be the next project. Then a summer weight Renfrew for me because that polyester 3/4 sleeve will not work as summer approaches. Then a return to pants. Or the
Tanit-Isis blogiversary top
. I have some lovely plumb bamboo that would work well. Or the
Blank Canvas Tee
. Or I did buy
Pendrell
when I bought Renfew and silk was in the fabric order from my parents earmarked for Pendrell. So many plans, so little time...