Wow was I tired when I got home from work tonight. Mr. Lina was watching some special feature interview and I sat down on the couch and fell asleep for an hour and a half. I'm not sure when I would have woken up if my mom didn't phone.
At some point last year, Fabricland had 5" belting elastic and belt hardware on for 50% off. I don't often belt my clothing, but
Already Pretty
does and I think the look is growing on me. I also have a couple of dresses, both RTW and self made where another belt option would be nice. So I bought some and sewed it up. I liked it in theory, but I did not think about how it would wear when I made it. I didn't put any stabilizer on the elastic where it joins the hardware, and I tried later (bra channeling) but it still had a tendency to twist and slide down. Not really the look I was going for. I also didn't make it loose enough so the elastic was starting to stretch out and bubble. Overall, it had a place in my wardrobe, but was frustrating and tired. Time for a new one to take with me to OCFF. There was maybe an hour between finishing work and heading out, I came up with this.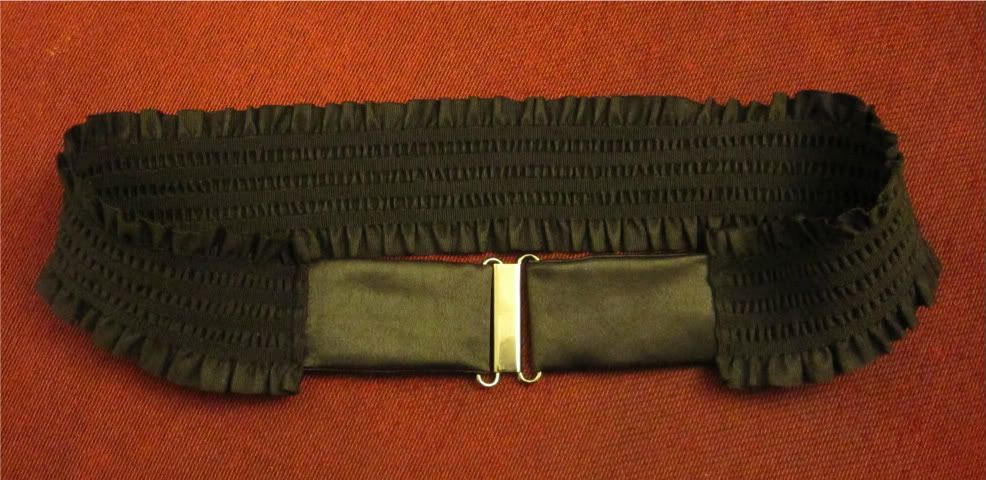 I tried pictures with it on, it's just too dark, they look terrible.
Silly me did not take pictures along the way (or even of the old belt before it was cut off), but time was limited. I have some Halloween cheapo black satin leftover from my Halloween cape a few years ago. I interfaced it, added some thick canvas as sew in interfacing, AND a little bra channeling at the fold. That sucker is not moving anywhere. This elastic is stretchier and I didn't make it so tight. I certainly could have done a few things differently (again), but at least this one sits as it should and if I need it tighter when the elastic stretches, I can always fold a little over.
What would I do differently? I made a tube, tuned it and cut it in half. I was focused on the seam being at the bottom when it could have gone to mid back. I could have top stitched the satin. I could have done a prettier job of attaching the elastic to the satin, there is a not-so-pretty stitching on the inside that could have been hidden. Still, I'm happy, what I would change is either style (top stitching) or hidden, so I'll wear it. I bought enough elastic for more, might make a nice gift for my two sister in laws. Here's hoping the hardware goes on sale again.