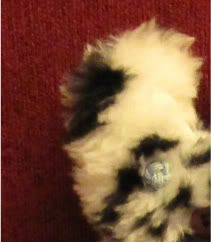 Yesterday I had plans. My mom sells her sewing mostly through craft shows and her
etsy
site. I help her every Saturday in November, but I'm a bit spotty with the couple of shows she does in Sept/Oct. I was planning on going from 9-12. We were going to visit my sister in law in the hospital (more on that in a minute) and go on to see Samantha Martin play at a bar in Kensington Market area from 4-7. Plans.
First, I slept in. Getting up at 10 when the show is at 9 and in order to visit my SIL I'd need to leave at 12 didn't leave enough time to bother driving the 40 minutes to the craft show.
My sister in law (of my older younger brother) has been in the hospital for 3 weeks now. It took a little while to piece it together, but her problems started with gall stones. One was passed and blocked her pancreas that caused pancreatitis. By the time she went to the hospital, the enzymes from her pancreas had backed up and caused all sorts of internal issues. She will be in the hospital for a while longer, the pancreas is slow to heal and she still can't process enzymes so all of her nutrition is from an IV. Overall, she is a whole lot better now that the various organs are well on the mend and her gall bladder is in better shape after a scope to take out some stones. She will have to have it removed, but not until her pancreas is better. Personally, I don't miss my gall bladder and I'm feeling pretty damn thankful that I never had complications like this when I was having gall stone issues.
I had a lazy morning after sleeping in. I figured it was time to go and make a get well card before we headed out. But I didn't feel like it. I don't really have good "get well" stamps and my sewing room is a disaster. To do the stamping and embossing properly, I was going to need some elbow room. And then I saw the Christmas present from my brother and sister in law.
It's a really cute book, aimed at tweens or so. Most of the suggested materials are recycled clothing, instructions are short and picture filled. The animals have adorable names and personalities. On the cover are Gracie the Rabbit, Den the Penguin and Monty the Giraffe. All patterns are included in the book but you need to photocopy them to enlarge them. I had done that for a few, but never had the inclination to make one of them until yesterday.
I have a small piece of fun fur my Mom gave me a while ago. I thought it would look cute as Dumpling the Guinea Pig. From the book: "Dumpling is a very shy creature, so you'll have to listen very carefully as his voice is so quiet. Make sure you do though because he's got some pretty interesting things to say." The directions are adorable, for Dumpling, they even remind you to be gentle with him because he's not very confident. I stuffed Dumpling full of love and get well thoughts (and 100% polyester filler I had - go stash go). Sadly, I put this off so long I didn't have time to take pictures of Dumpling, I sewed him up and we left.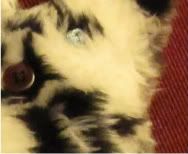 We got to the hospital about the time that Samantha started her set. My SIL is feeling awake and bored so we stayed for an hour and a half rather than the half hour she was up to last week. That would have got us to the show in time for the last song. Mr. Lina was feeling sad and snuggly but unsure why. We decided that maybe we should go home, order in food and hang out together.
On the drive home, Mr. Lina came to the conclusion that I thought he would, that perhaps there was another chemical pregnancy. This has been a really heavy period, and that could just be because of that September "What the heck?" period being so light. Either way, we were both feeling a little sad and needed some hugs. We watched a little Deadwood, ate some pizza, he ate wings, a little cherry vodka and coke and all was good. Mr. Lina wanted to prep for Dungeons & Dragons this afternoon, so I toodled off to tidy up and sew.
We talked about Dumpling on the way home. My SIL was stroking him a lot when we were there, not in a conscious way, but I think having something small that was soft was good. Mr. Lina said he wanted a little person in our house that I could make more Misfits for. Perhaps I could make another tonight while he was doing his reading. So I did. But it will not be for our small person, it will be for another small person. A friend of mine and a friend of Mr. Lina's met at our wedding, neither are from Ontario so we fill in some of the family gaps for them. Because we know both families, they asked us to be next of kin to their daughter. We have broken many of our baby rules for her, we sometimes hurt when we leave, but it feels good to see her. She's a year and a half an now she will have her own Dumpling.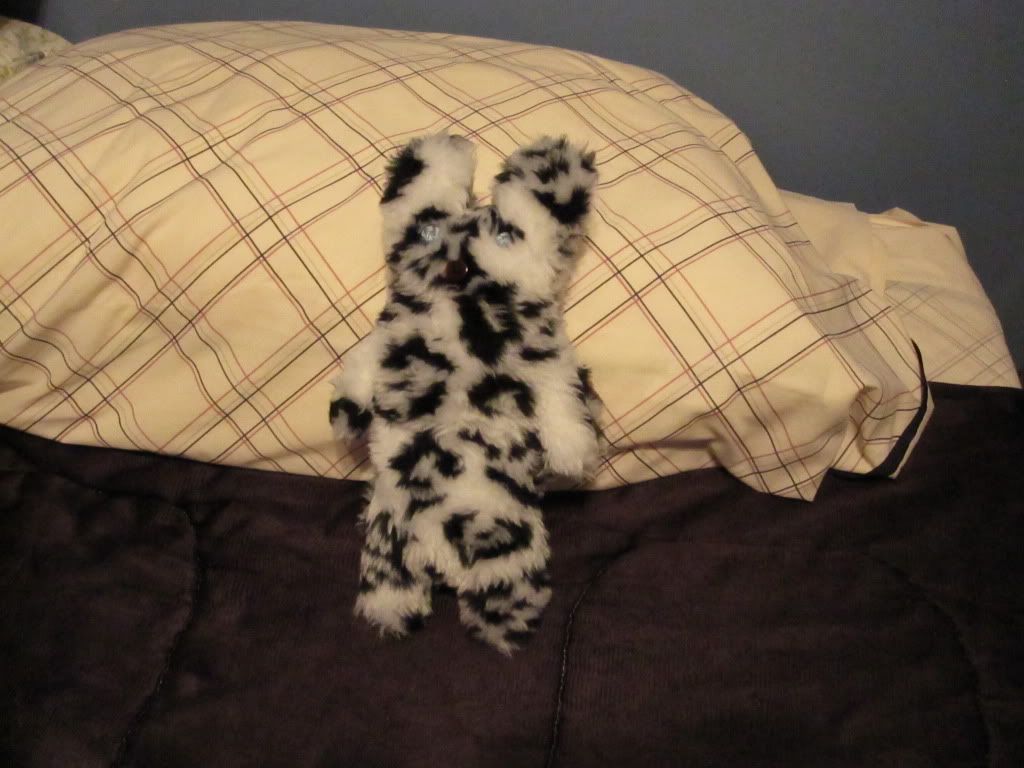 Dumpling is ready for bed.
This one is a bit different than the one I made for my SIL. I was relying on what I had around, so the button nose is not the same, although the eyes are, I have lots of those. One thing I did differently from the directions is that I sewed the face on before sewing the two pieces together. It's a heck of a lot easier to sew a button on when you can access the back of the fabric. It's hard to see here, but there is a pink mouth with two threads of embroidery thread. The fun fur blocks it but I think it might get a little more noticable as it is loved and the fur compacts a bit. This one also has a little bit of fabric in the middle, so it had a firmer centre. I like to think it's a heart.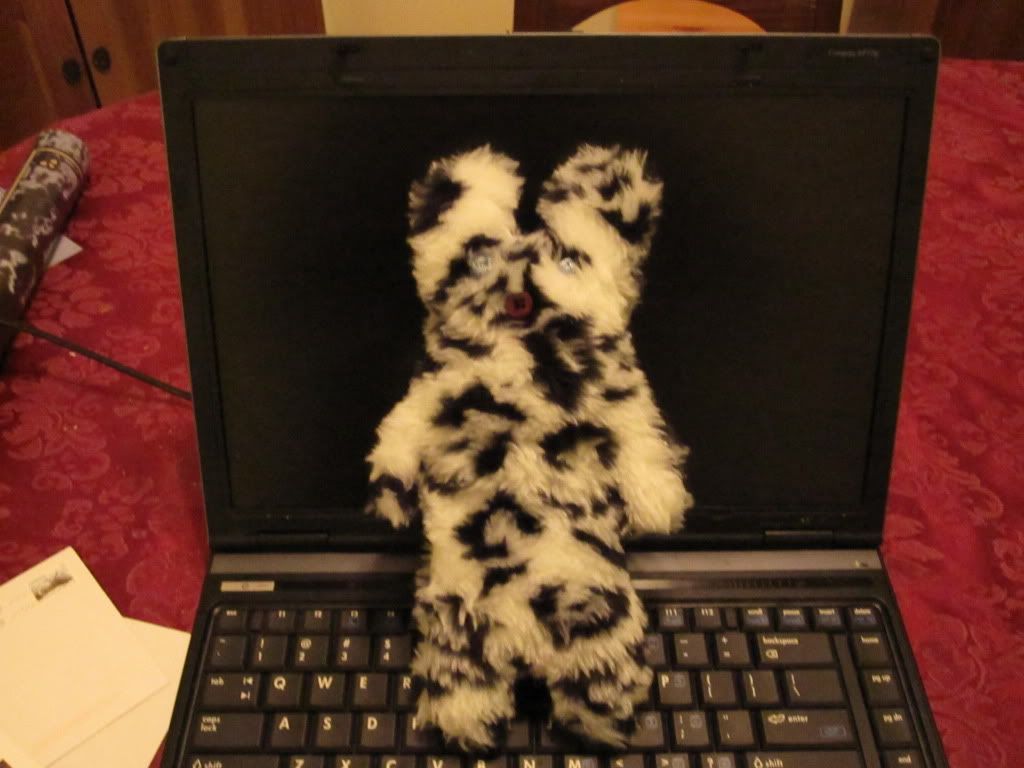 Dumpling is shy, but he likes having online friends.
All told, Dumpling is a little over an hour start to finish. Probably an hour and a half for the first one as I was digging for supplies. I've never sewn with fun fur before. Not sure I really like having that much fluff flying around. Dumpling would be a pretty good hand sewing project too because he's so small and not complicated at all. With them being misfits, errors look intentional rather than mistakes. This Dumpling has a much smaller right arm than left (his right, not ours), but I'm not going to fuss about that, it gives him character.