I did not realize there were multiple ways to spell pajama/pyjama. Quite often Canada sides with the UK on spelling, adding u's into words like neighbour or humour, or re's for centre. But we still pick up phrases from the US, pants are not panties in my mind (my MIL would call underwear gotch, sometimes gitch), my car has tires not tyres and if I had an extra tire, it would go in the trunk not the boot.
Did You Make That
spells it py, but the pa was how I typed it without thinking about spelling and that's how it was spelt for the movie Pajama Party. I turned to google for clarification to find my confusion is a Canadian thing.
http://grammarist.com/spelling/pajamas-pyjamas/
Pajamas and pyjamas both mean loose-fitting clothes worn for sleep. Pajamas is the preferred spelling in American English. Pyjamas is preferred in most varieties of English from outside North America. Canadians are inconsistent on the issue, though they prefer pyjamas by a small margin.
I have my fabric all washed up. It seems to have washed well although it creased a bit at the cut edge. I had zig zagged the cut edges, it seems to fray as I'd expect from a woven but ridiculously so. I like that it has a little texture to it so it will look intentionally wrinkled in the morning. The colours here are a little warmer thanks to the lighting in my sewing room, the green stripes are a pretty vibrant lime colour. You can see a bit of the creasing (and zig zag) at the fold.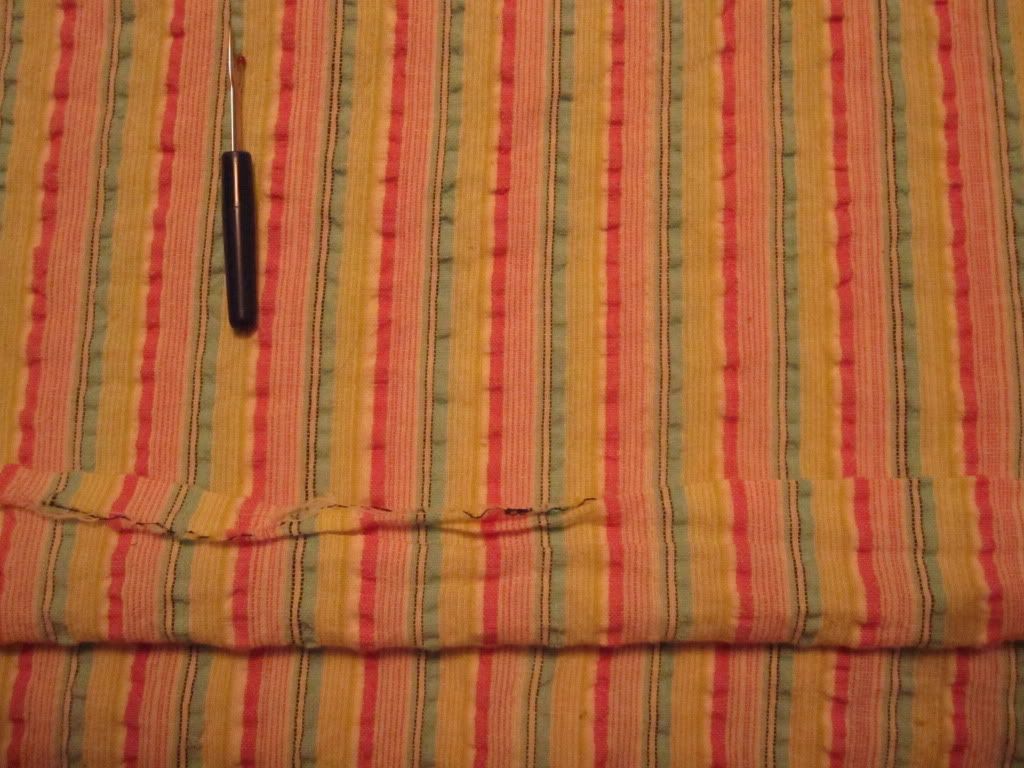 PJ's (neatly avoiding either spelling camp) can have many objectives. These are going to be cool pj's for hot nights and I figured I'd go through my existing pj's and patterns to figure out what I actually like to wear. You know I really don't have anything I want to copy? All of my summery pj's are oversized knit tshirts/tank tops and shorts with Winnie the Pooh on them. This cotton is not a knit and I don't really want something ridiculously oversized that I feel I'm wearing a tent. I also would like enough bust coverage that it's okay to step into the backyard and be seen by my neighbours. The bottoms I'll work with my
pants block
as a starting point and use existing pants to figure out ease, oddly enough, I'm not worried about the pants.
I do not have a wide assortment of patterns. I try to purchase patterns carefully or supporting people like Colette and Sewaholic. Quite a few patterns in my collection are from Mom so they run the gamut of clothing for her and kids patterns. Nothing that I have in envelopes is really suitable. I turned to the patterns I've got from Lekala (who spell it py), I think I like the top for
5252
, this one is also available with
Modern Sewing Patterns
Things I like...
Wide shoulder straps
No sleeve
It is intended for wovens
Princess seams should give the illusion of curves
Things I'm not sure of
Buttons? I'll have to think about that, could be cute, could be annoying.
Will likely have issues of the bust area not lining up with where my braless bust ends. I did find that the "red slip" princess seams did fit well sans bra so they may have already worked that in the pattern.
I do like that
red slip pattern (Lekala 5241)
, it crossed my mind to just make it shorter, but I would like a little more to the straps so it feels less revealing to guests. The straps are the bias tape that is all one piece from one strap, across the back and around to the other strap. I think widening the straps requires more effort than just finding another pattern that would work.
So I dunno if I'm heading into TMI, but I tell you if I'm ovulating so I'm not sure that I really understand the limits of TMI. When it is really hot, the big problem of staying cool is skin to skin contact. Be that between the two of us or between my legs or... under my breasts. It gets freaking hot there where the under part of my breast sits against my rib cage. Bras deal with that in the daytime but I am not wearing a bra to bed because it's hot. So one thing I kind of like about having sort of cups to the top is it could help with that. At least have fabric in the area I can tuck around.
If not this, then maybe just a
Sorbetto
tank. It would be easy...