The grey skirt is finished and Mr. Lina said the hem looks okay. Here's hoping he's right. I really should get around to making/buying a dress form at some point. I imagine that would make hemming a little easier. Here's a whack of pictures of it. Love the skirt, not so keen on the pictures of myself. I wasn't planning on going farther than the mechanics to get my car, so my hair is just pulled back, no make up, etc. Shows how much I trust you guys.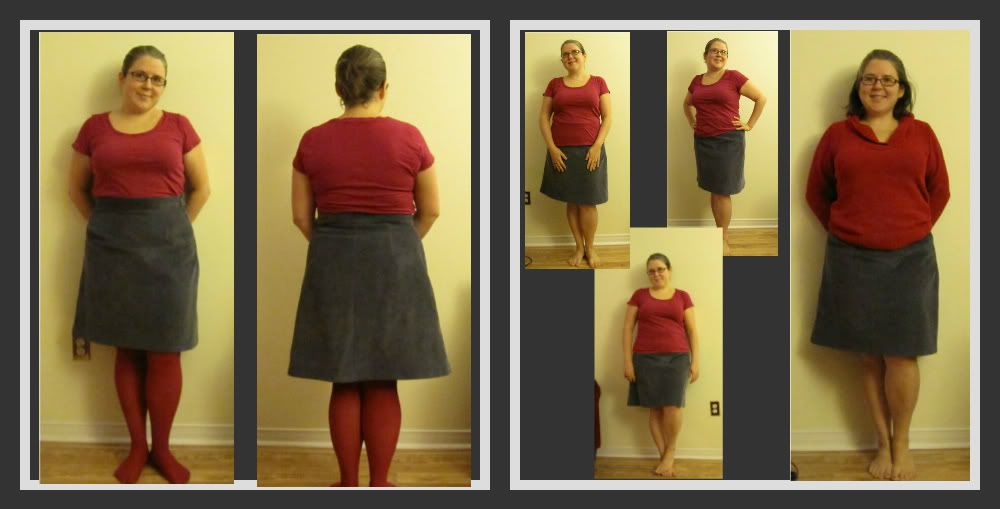 I was wearing the red sweater all day, so I started off taking pictures with it (far right). The problem is that it's kind of big and warm and not so good for showing off the skirt. So I switched to a close fitting tee.
StephC
mentioned on her blog that she's more comfortable with her shirts untucked. I'm the same way. The tucked in look is growing on me, but I feel like there isn't enough space between my bust and the skirt with the shirt tucked in. Untucked, well, it's maybe more casual because I'm wearing a tshirt in most of these, but it's not a formal skirt. I took a lot of pictures, both tucked in and out, sorted it down to the 9 or so I liked, then down to 6 in a collage. I looked at it when I was done and realized there was one tucked in and I only kept it because the pose was different. I decided more pictures were in order, I even found some hot pink tights to match the top.
I see a few wrinkles near the waist at the back. I actually think I have a pretty good fit back there. The waist is loose, I could have made it a shade smaller. I was so worried about making it too small or a tight waistband that would leave muffin tops. The band itself is cut on the non-stretch direction of the fabric. I didn't want something that fit in the morning and was too big at the end of the day, my denim skirt does a little of that. It pouches out and then it doesn't fall quite the same. We will have to see what it's like after a full day of wear rather than an hour or so for showing off.
Now to go sew up that Lekala slip. We'll see how far I get before bedtime.