Mr. Lina is going to be filming the next movie from Friday to Monday so the long weekend we were running a few last minute errands for the film. Mr. Lina mentioned he needed to buy a thong for the movie. I said I could do that. Really, it gave me an excuse to put off the zipper situation on the purple dress and it's two triangles sewn together. I can do that.
This is made from pantie fabric from
Sew Sassy - Y2705
(they spell it i.e., I want to spell it with a y, either way, it really does feel nice), picot elastic from Sew Sassy and some FOE I think I bought at Fabricland, I've had it for a while so I'm not sure. Mr. Lina wanted it all black (oh so easy to photograph) so the FOE is actually inside out. The proper side has silver threads on one side, when you stretch the waist band you can still see a few glimmers. If I understand right, Mr. Lina wanted this to be as tiny and stretchy as possible. It will be used more like a string than underwear. The actress will not need to wear it, so sizing didn't really matter, I took the sizing roughly from a RTW thong in my drawer. I made it a little too small for me and told Mr. Lina I didn't want it back, if the actress would like to keep the "wardrobe", she was welcome to it.
My sewing room really needs to be tidied up. I have many shoe/boot boxes that keep things like elastic or ribbon or black bra supplies together. It works pretty well for me. Until I misplace the box that has the cotton knit I use for the gusset on underwear. I must have spent half an hour looking for that box. I still haven't found it (although I did find a RTW bra I was looking for), I ended up using a little snippet of pointe knit, same fabric I made my
last Renfrew
from.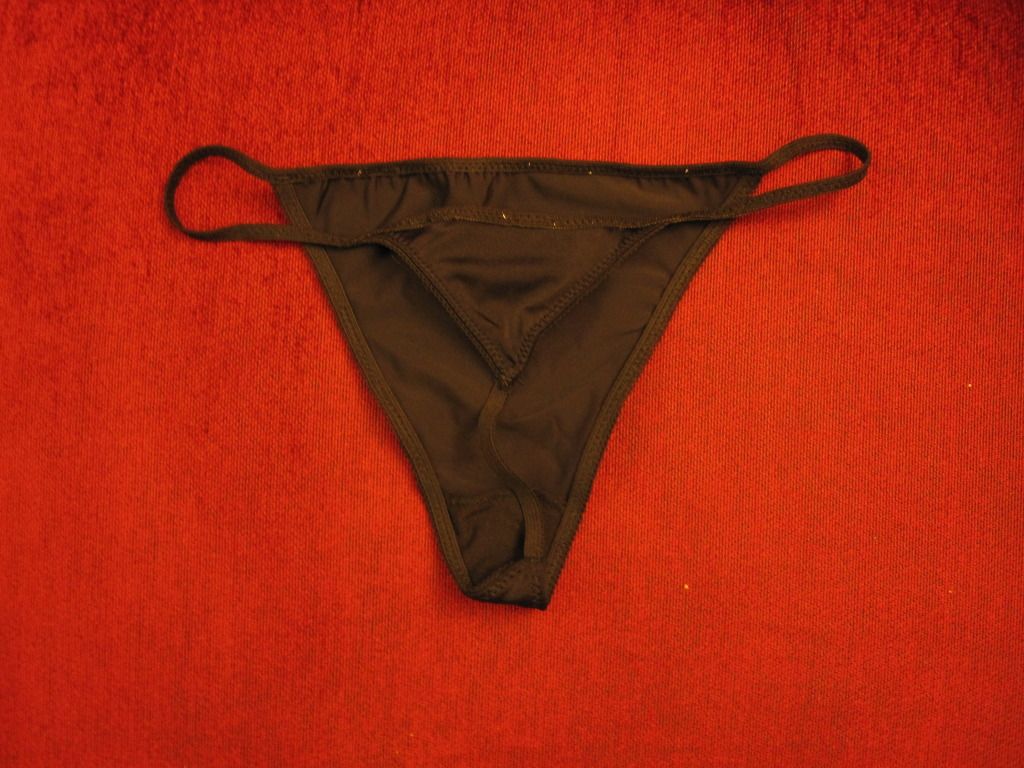 Why does the couch look wavy? I really should have taken my time last night.
The one challenge with this kind of project is keeping everything facing the right way. Because the triangle in the back is not attached to the front, it's really easy to think you have the elastic facing the right way only to sew it all on and realize there was a twist in it. Ask me how I know. Between looking for the box and resewing the waistband on, this took much longer than it should have.
I also needed to get my ass in gear on the blanket. My brother has gone back to the NWT, I think I'm healthy enough to meet my niece but Mr. Lina is still having some lingering coughing and congestion. I don't want to go without him so I'll wait until after the film is shot. I've started the boarder but each side has a different stitch pattern to get started so it's been slow going. I think it's 4 rows of single crochet and then a few rows of the shells to make a wavy edge.
Sorry for the night time picture, it really is a pretty green.
I bought some pink, yellow and variegated yarns, providing options on what to use. Mr. Lina liked all three but he really liked the variegated yarn. I figure you shouldn't ask an opinion if you aren't going to consider it. I liked pink best because I know who it's for but I liked yellow best because it was pretty, this felt like a compromise when I just couldn't decide. We'll see how it looks when I have more than one row done. I can always switch back to green for the wavy shell part.
One little whiny story. I went to Montreal on Tuesday for work. There were 3 newish employees who needed training on the product I specialize in and part of their time was associated with my client so I will be working with them. My account director decided it was cheaper to send me to them rather than all three of them to Toronto. I like training, I was happy to meet many people I work with on a regular basis but have never had the opportunity to meet. I did not realize what the day was going to end up like. I was on an 8am flight to Montreal (i.e. the alarm went off at 5:40am) and I was on a 5pm flight home. Fortunately both my home and employers office are close to their respective airports, but it's still about 2.5 hours between the flight time and pre-boarding each trip to end up being in the office from 10am to 3:30pm and I spent all of that time standing at the front of the room talking. Lunch ended up being a quick take out from the mall across the road because there wasn't time to have a social meal. AND no time to go fabric shopping. I mean really, what were these people thinking? Why did I not speak up sooner? I'd say next time but I have been with my employer over 6 years and 2 years being associated with a client that has a head office in Montreal, I don't know when "next time" will roll around.
Anyone live in New Orleans? The Post-Lifers has been accepted to the
New Orleans Film Festival
. Mr. Lina also submitted to the New Orleans Horror Festival and is waiting to hear back. We are thinking that we'll go to one of the two festivals, both are in October about two weeks apart so we can't stay for both. I'm happy to have another reason to go to NOLA even if it's just for a couple of days.