When I posted about a few possibilities for my friend the bride, I said fabric would likely dictate what I ended up doing. So, I think I have the fabric.
I found a few fabrics with potential. The purple swirls to the left is sheer and pretty soft, it's on a mostly white background so it's a bit brighter than against pale skin. It would drape well for the skirt and the mix of colour would provide a little more modesty but still hint at what's under there. The lace across the middle is 5" wide stretch lace, good for panties, midriff elastic, I'm not sure it's quite wide enough for bust, but I have others stashed away that might be 6".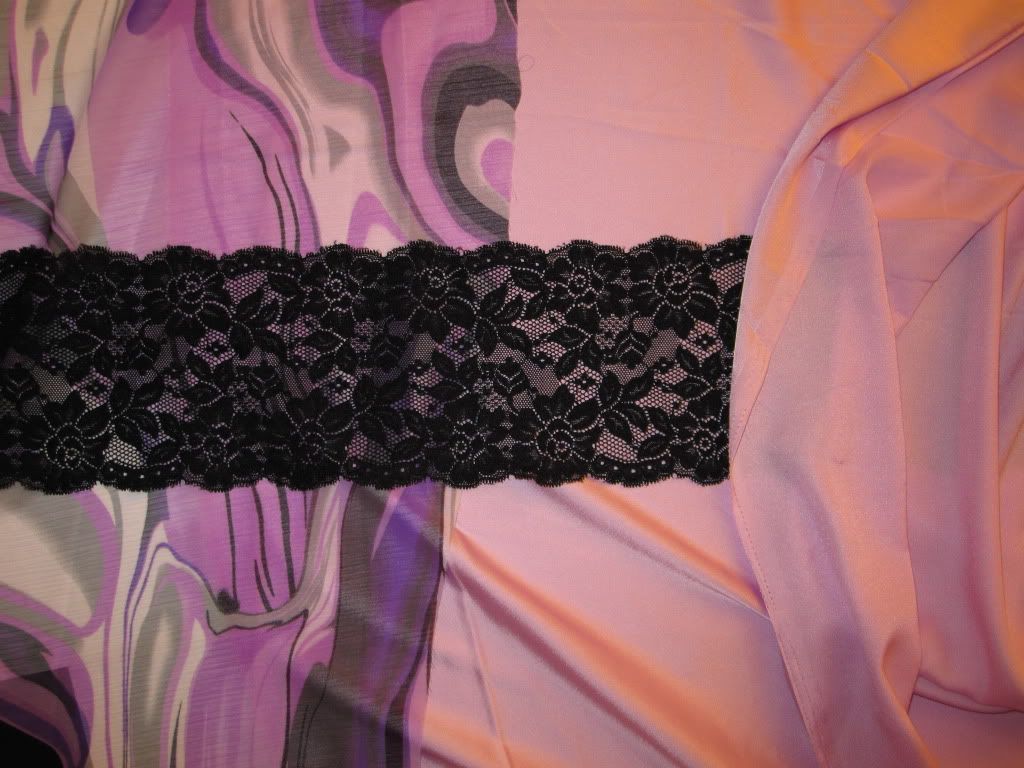 To the right is a charmeuse, it's polyester too. Not great, but honestly, how long is this going to be worn? At least it would be machine washable. I'm not sure that I want to use much of it for this project, it's soft, but not sheer. Although it does look nice beside and behind the sheer fabric.
So... what to make. I still like the bra with skirt idea, but none of this is stretchy and that bra needs a little give. I do have black spandex pantie fabric (from Sew Sassy) or purple satin I could make the bra out of. That could work. The black wouldn't be overly supportive but this is not intended for all day use anyhow. Solid bra then with the swirly skirt.
The more I think of Lekala 5779 the less sure I am. There really isn't any way to add support to it. I know I like a little oomph to my lingerie and I suspect the bride would like that too.
Hmm, decisions, decisions... I think I'll sleep on it.