Well the cold/flu/whatever seems to show signs of improvement without actually feeling healthy. I am not dying, things could be worse.
Yesterday I felt fairly good in the morning. My performance review meeting was scheduled for 10am and I really wanted to do that in person. There are messages in body language you just don't get over the phone and it is particularly important when talking about a (potentially) sensitive subject. So I propped myself up, put on a self made outfit (
Renfrew
and
grey cord skirt
) and figured I could always go home after the meeting if I got too tired.
The day was so busy, I didn't even get a chance to pee until 1pm. I guess because I had people in front of me and due dates and questions and, and, and... I just focused on doing what needed doing. I was tired when I got home but again, things needed doing. Mr. Lina needs these "curtains" for the movie on Sunday so they can test lighting against it prior to filming next week. We still needed the fabric and I need time to sew 24m of fabric into 3 "curtains". With time running out, we went to do that running around last night. As it snowed.
I managed. We got the fabric, we stopped at the brew your own place Mr. Lina likes, we even stopped briefly at my parents to see my niece. And we were home in time to go to bed a little early.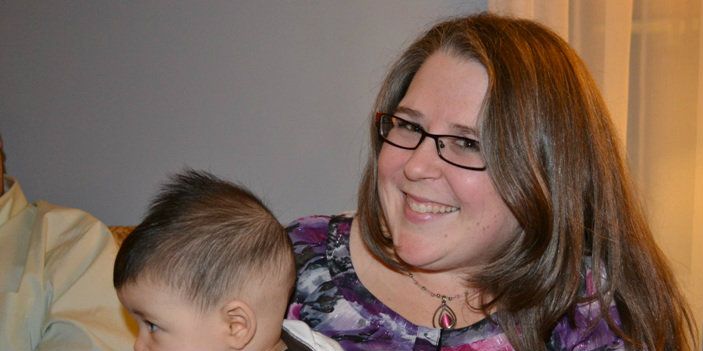 This is from Christmas, my niece (as usual) staring at the baby whisperer, Mr. Lina.
Myrna
was saying that it was a sit on the couch and read day for her yesterday. After spending all that energy yesterday, I have none today. I keep picking at work and thinking is hard. There is cotton in my brain slowing down the message from one side to the other. I can't wait to go home, get my blanket, snuggle with Mr. Lina and crochet while watching some television. If he wants to play video games instead of movies, well, then I'll be reading too.
Tomorrow I will sew these "curtains". I keep putting it in quotations because this is not going to be true curtains, more like vertical drop cloths. I really don't know what they are going to be attaching it to, I doubt there will be open ended rods for a casing to hold it up. The plan at the moment is ties across the top, possibly velcro in the future. Push comes to shove, he will clamp it to something. It's a bit frustrating to not know what they are working with but given that they may use this in other shoots in different ways, it's good to have flexibility. Blue fabric will end up being about 4.8m/15' across and 9' long. The black fabric will be in two panels, same length but half the width. Oh boy, 9' of a straight seam. Can you hear the excitement?
On the plus side, it will...
Make me clean my sewing room because this project is going to need space
Get me doing something (anything!) in my sewing room
Hopefully leave it in a cleaner state so I want to be there
Add another level of connection to the movie, I like being helpful
And I'll feel awesome seeing my work on screen
But here are two highlights for my Friday. I have been nominated for a Liebster award on
Aft Agley
. Thank you so much, Nothy. I'll organize my thoughts on the weekend and post about that soon. And another Liebster recipient is playing fast and loose with the rules and offering a giveaway on her blog. Blue and white cotton with a little stretch anyone? Visit
Falling Through Your Clothes
!