I have hit 3 Fabriclands this week, two of them twice. Let's see how I'm doing:
Mom
.5m of an Aboriginal themed print in red
.5m of the same print in blue
.5m of a fabric that is not what she wants but it had dice and was on clearance
Mom total: 1.5m, not quite $15
Seraphinalina
4m silk noil - black
4m silk noil - red
4m silk noil - beige
2m cotton poplin
2m black knit interfacing
3m silk noil - royal purple, not as blue as in the picture
3m silk cotton
Sera total: 22m, $140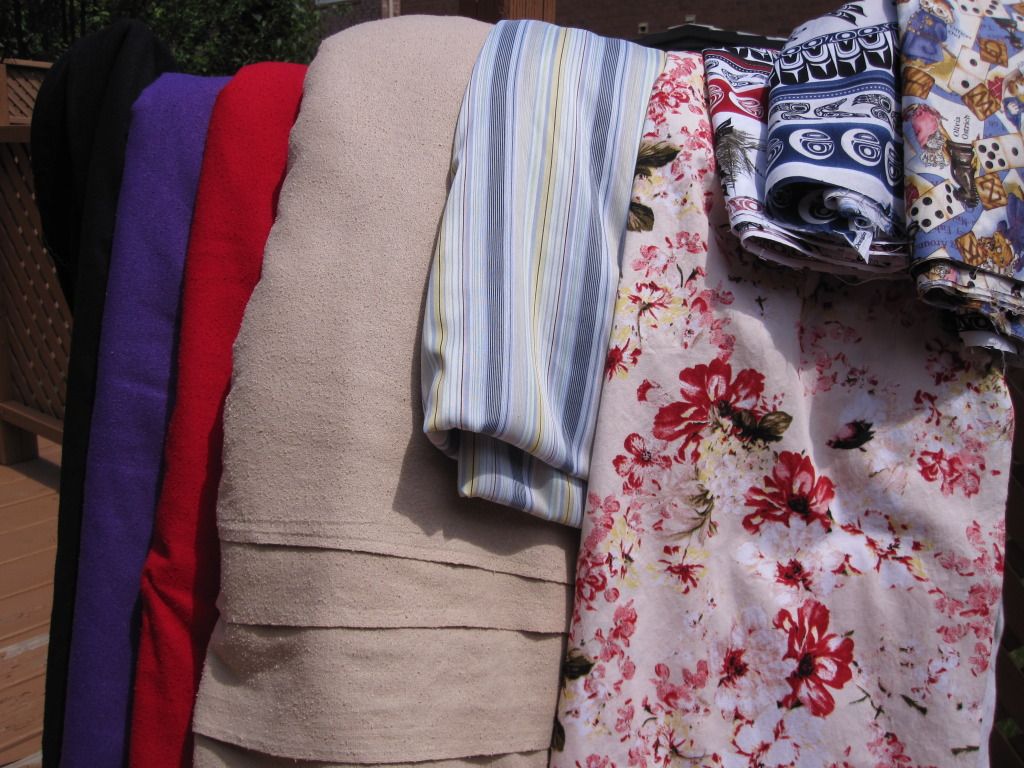 There seems to be an imbalance there. Maybe a decimal point in the wrong spot. The little pieces for Mom on the right look sad beside my big chunks of fabric. Black noil is a bit hidden on the far left but given that we all know what black looks like I didn't worry about that too much.
In my defence...
All silk noil was $5/m, I blame ElleC. I had to listen to her and buy what I could afford
Cotton poplin will solve a loose pair of red capris I love but struggle to wear and it was marked down to $7/m.
Can you ever go wrong with interfacing purchases? It's like thread, you just need it.
At least, is it ever wrong to buy vaguely decent interfacing? It can go horribly wrong if it's bad product.
Silk cotton was regularly $25/m down to $6.25/m in the clearance area, it is another colourway of the pink silk cotton I bought a little while ago.
I know, I haven't used that piece up either.
The purple noil and silk cotton I bought this afternoon, all the others were washed up (by machine on gentle, cold water and a small amount of gentle detergent) last night. It all came out feeling and looking the same as before. Noil smells funny, not bad but it's noticeable when you wash 12m at a time. I did start to plan out patterns to sew next, watched LazyStitchings' FBA tutorial and realized I was just too damn tired and I would need to think about sizing and FBA for the things I want to sew. If the length of Pendrell is accurate, that's going to be a tunic on me. This weekend something is turning into clothing, I have to validate these purchases somehow.
And in other news, HCG is down to zero. No more tests for me. Next stop seeing my doctor on July 13th. I feel some relief that I don't have to get tested again, but given that I started crying buckets watching the
video Oona posted
that has nothing to do with babies but my mind just saw an angel, maybe it hurts more than I thought.
I am going to go to the family dinner tonight. I don't know how it's going to go but if it's like Christmas, the build up is worse than the event. I am not beating myself up about it or overly stressed, it seems like it's a good time for our family to be around each other. My middle brother, "
Scot
", is separating from his wife (again). It seems they are both still in love with each other, but not with the life that the other person wants to live. Things got better after their first separation, but they are heading back in the same direction because they simply don't want the same things in life. It is sad, but I see his point. I'm not the only one going through a rough spot. It was Scot's birthday on Wednesday, I took him out for lunch and I was the first of our family he told. Apparently he tried to tell our parents on the weekend and chickened out. I get that, it's not easy to say sad things even if in the long run this is to make him happy. So, I'll just tell myself I'm going to support him and take Mom some fabric. The rest, well, wine will cover the rest.