There is an expression of those who can't do, teach. Well, I think those who can't sew, shop.
I have been very aware that my output has been reduced to damn near nothing the past few months. This makes shopping a little risky. I don't need more stash because I'm not using what I have, but it can be inspiring to have new fabric. And I still sew things in my mind. Sadly, I think some of it leads to what I'd call "analysis paralysis" at work. Looking at so many things at the same time can bring you to a full stop from indecision rather than pushing you to do more.
I thought that I was showing restraint. I haven't been in a Fabricland for ages. I limited myself to a couple of pieces of fabric when my parents were away, a few things at the sewing meet up... But in taking pictures, this doesn't look like much restraint.
When my parents go to Florida, I can't resist buying a few things and having it shipped to them. It's just so cheap. Let's start with Fabric.com purchases, two shirting fabrics
I was thinking about blouses for these shirts. Since adding a little weight and buying a new bra (and accepting an additional cup size) my summer shirt wardrobe has shrunk. Things that I could kind of get away with are not going to work this summer. My employers dress code is casual but not so casual that I can wear tshirts. Say, either of these in an
Alma
with jeans would be perfect for the three days I'm there. Add dress pants and it might work with my clients office.

Then I ordered more bra making supplies from
www.sewsassy.com
. I like their prices and with few exceptions the quality has been good. I stuck mostly to findings and elastics.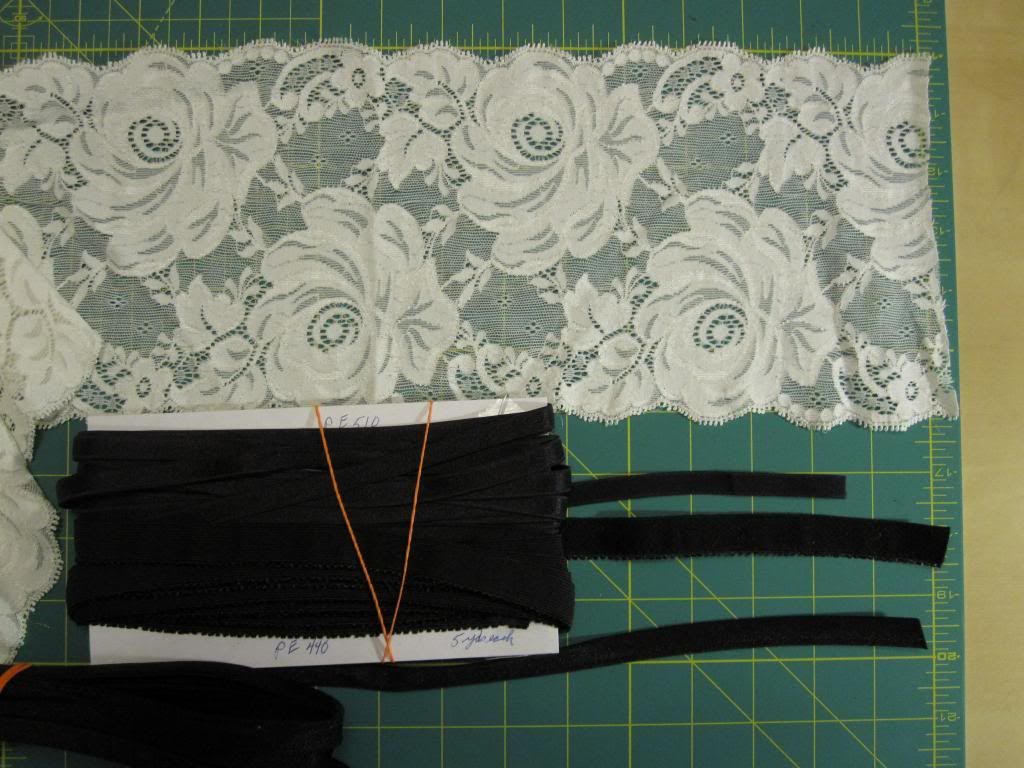 Wide lace elastic & bra elastics, close up below.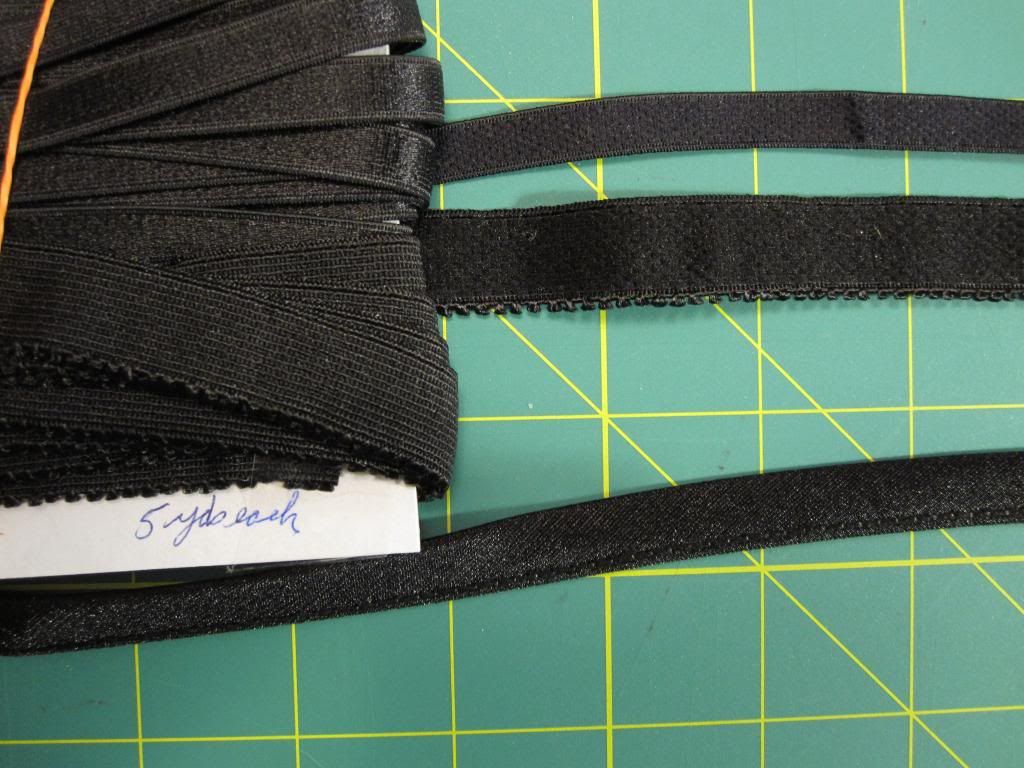 Strap elastic at the top, then band elastic and channeling at the bottom.
So let's talk underwire for a minute. In deciding that I need to go up a cup size (well, two but down a band size so in sister sizes I mean one) I need
new underwires
if I want to make bras. Here are a close up of 3 underwires.
To the left is a demi wire I bought a couple of years ago (also from Sew Sassy but I have no idea why I bought it). The white wire is "flex lite" spring steel underwire and the third is wholesaler overstock underwire on the site, sold in packages of 6 pairs. I wish I still had a crappy pair of underwire that they sell at Fabricland. I think I have twist ties that are stronger than they are. They may be fine for a young woman with a small cup size, or maybe a bathing suit, but I as
K-Line
has pointed out, weak wires can be the downfall of a full support bra. On the Sew Sassy site, they picture the flex lite inside the flat metal wires because the shape/height is a little different. Compared to the flex lite, the flat metal are 3/8" larger inside width but 1/2" smaller inside depth and 1/8" inch smaller in outside length. Looking at the list of underwire sizes you start to understand how not all cup sizes are quite equal. I really like the weight of those flat metal wires.
Two bras that I thought fit well both died because of plastic component failure. It's a sad reason to not have a functional bra. I bought white nylon coated metal (which can be dyed although the odds of me doing that are slim) slides from Sew Sassy. On the Toronto meet up, I found some awesome metal findings (front clasp in the top left corner is plastic but it seems a bit thicker than what I have). Silver isn't as easy to find as you'd think and I like silver accessories.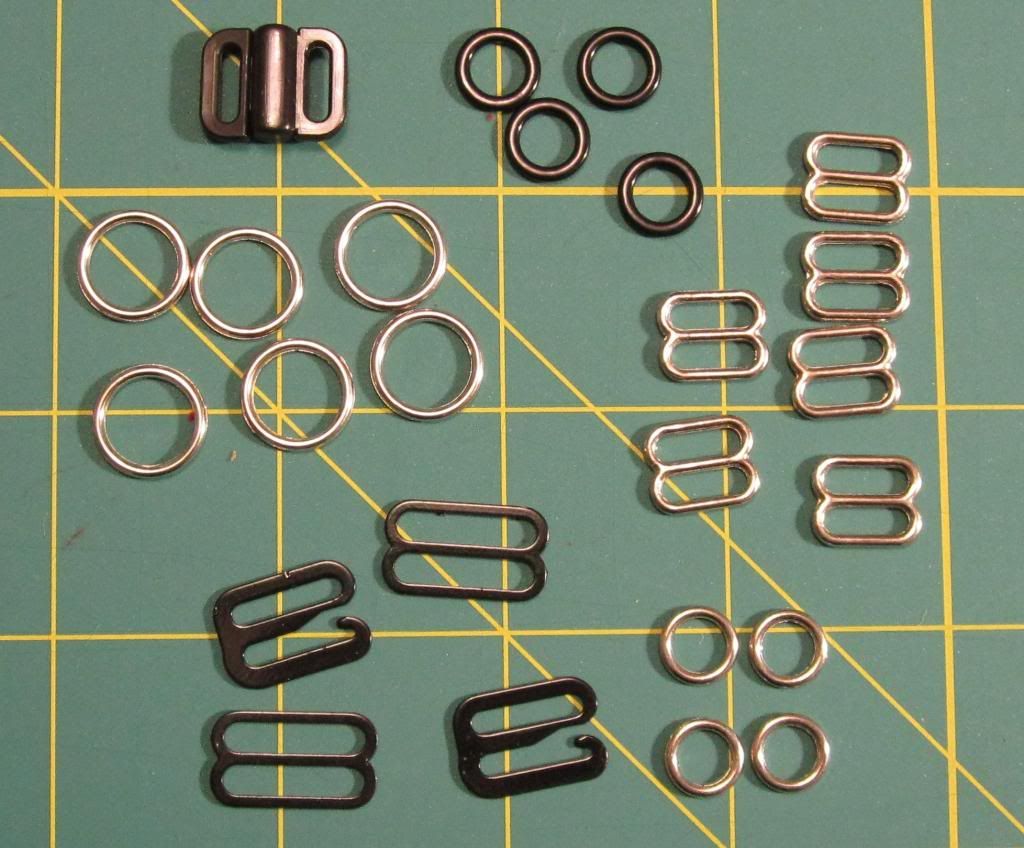 I did buy two pieces of fabric. I have a soft spot for wide lace elastic. This is actually a pale purple colour, the green background is changing the colour a bit. I spied it behind the cutting table, I tell you wide lace calls to me if it's over 5" wide.
And then craziness took over. I've made a few bathing suits. I think they represent a good ROI on my sewing time compared to full retail prices assuming you can get the material on sale. I was given a little discount on this but it is probably the most expensive fabric I've ever purchased (on the plus side, you don't need much for a bathing suit).
It's wild. I don't even like orange but the purple (kind of maroon-ish) and black swirls danced before my eyes blinding me. I think my brain was already in Mexico. The feel of this fabric is really nice. It's going to take a little time to cut into this because it may end up being one of those precious fabrics you can't stop touching long enough to cut into.
Given that I have (clearly) a crap ton of recent purchases. I tried to show restraint during the swap. I picked up a piece of stretchy leather looking fabric. Really stretchy, like legging stretchy. I'm pretty sure that
Kristiann at Victory Patterns
offered this up, she was quite funny in "selling" it to the group. Black photographs so well (did you hear that sarcasm?) I didn't even bother trying to get the black and shiny features but that's it behind the pattern. I have never purchased a Hot Pattern before so I was happy to take this one home. Thanks
K-Line
!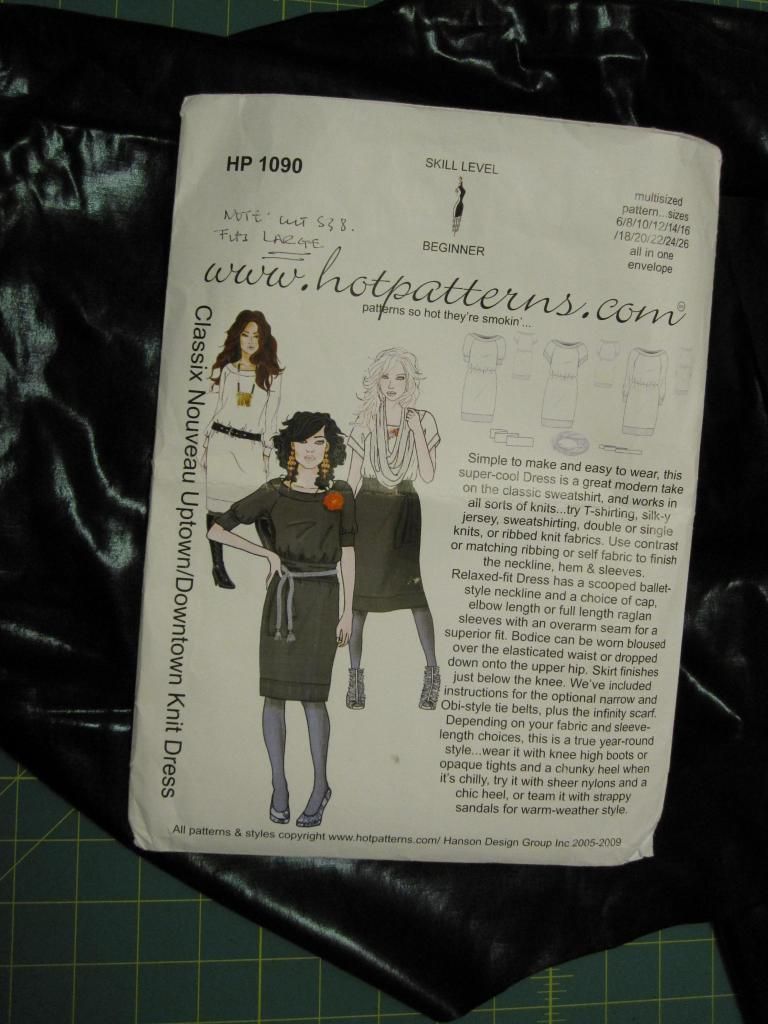 And last but not least... While in Landshut, Germany, we happened to walk past a fabric store. At the time we were starving and looking for a restaurant that served something other than strudel & coffee or take out. But the next day, we went back. I bought 2m of this for myself...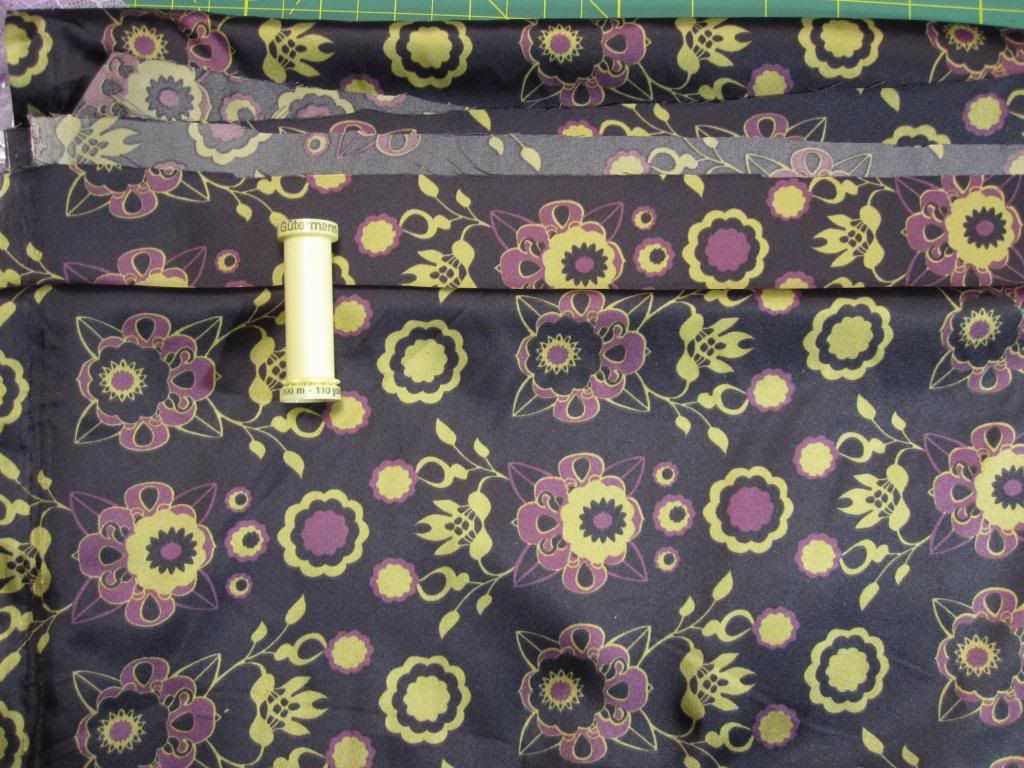 The fabric is folded back at the spool of thread so you can see the wrong side and get a little sense of the drape. It's kind of cool, like satin but not nearly as shiny (see how light isn't reflecting on any of the folds like the black stretchy stuff). Very soft and a rather substantial weight to it. I love the shades of purple and beige seems like it adds some versatility to it. There is a little one directional stretch to it.
And that is the end of the shopping confessional.