Are you driven by patterns, fabrics or others? Do you find yourself starting with a pattern and finding the right fabric? Or holding a fabric knowing the right pattern is out there?
I think I am often inspired by fabric. I love thinking of the potential for a fabric - a full skirt, a light blouse, a cosy shirt. As I was working on Burda 118A last night, I realized that fabric had not even come to mind. Here I was, tracing the thing out, taping tissue paper sheets together and starting to cut them out and I had no idea what fashion fabric I was going to use. None. It had not crossed my mind to find one. How weird is that?
One thing I have come to realize is that I have bought lots of:
Poly knits, probably purchased on a 3 for 1 sale
Rayon fabrics thinking to make Senchas, Sorbettos and Pendrells for summer
Stretch cottons bought this summer
Sheer fabrics
Silk noil
Crazy fabrics (generally purchased with lingerie in mind so they are a bit costumey)
You know what isn't on that list? Wovens (with the exception of the silk noil). Rather, non-sheer and non-stretch wovens. The few wovens I have must have a little lycra or spandex because they all have a little give in one direction. Strange but true.
A year ago when I was up for jury duty (odd how I remember that trip to Fabricland so clearly), I bought this fabric.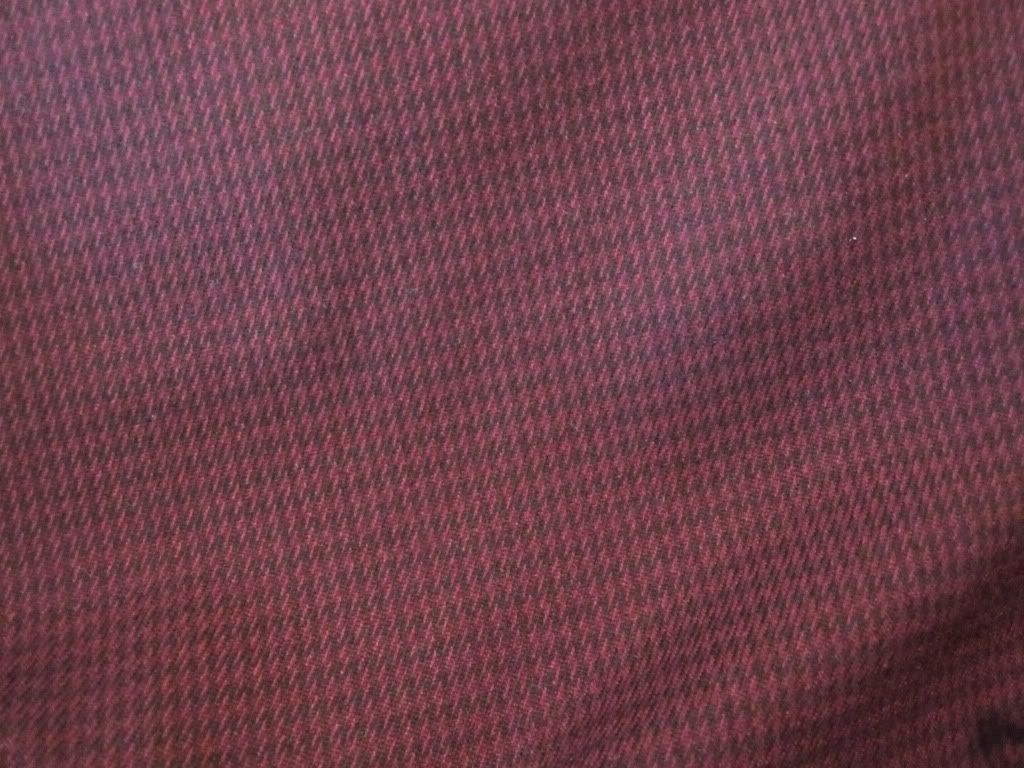 From a distance, it reads as a solid, but it's a really nice mix of a plum colour and black in a very small herringbone. It has a little stretch to it, just a little. I'm going to learn from Allison C's issues of the bias skirt causing problems and cut it so the skirt is straight and the bodice is on the bias. The bit of stretch around my hips will help if my estimates on sizing up are a little small. Am I right on that or will disaster ensue?
I've been doing some flat pattern measuring to figure out where I need to add and how much. One thing I found interesting in doing the many measurements that Burda has was the front and back body lengths. I'm 5' and a half inch, not as tall as the 5'6" they are designing for. I was really surprised to see that the front measurement from my shoulder to waist was pretty close to what they were designing for. The back measurement, however, was off by 1.5-2" if I remember right.
Obviously with a FBA, you need more width to go around and deeper darts. I'm 43-44" at my full bust (depending on the bra) and almost 39" at my high bust. The less obvious aspect is adding length to go over those breasts. It seems that in having a fuller bust, I'm ending up with the right body length. But being short, my bust apex is higher than the sloper. In the back, I don't have breasts filling up that volume so I need to remove some length.
I have paused in making my FBA because I need to let my brain simmer a little on how this translates from flat pattern that exists, changes I know I need to add/remove, and my 3D body. Added to this, look at the line drawing, there are no bust darts. The side gathers make it a little hard to figure out where the apex actually is (or how much it matters without darts). I was folding the tissue paper last night to make it look more like the flat finished shirt, tissue paper does not drape like fabric.
I am slow with this stage of sewing. I like to walk away and ponder, maybe pick up something else for 10 minutes and return to it. It's a simmering process for me. As it was approaching 10pm, I also figured it was good to stop rather than push on. I wasn't ready to cut into the fabric yet and that was going to take time when I was ready.
I mentioned in comments a few updates on the fertility process. I passed the skin test for TB. I had my chest x-ray done and here's hoping that confirms the negative test. If not, well, I'm okay with that too except for the fact I'd rather not have a latent case of TB. I am clearly not "pro-Humira", I think I'm more trusting in my doctors opinion than really wanting to take it. A positive test would remove that decision from my hands. I have also booked all the tests the clinic wants for Saturday. So once the x-ray results are back and I've handed over some money and consent forms, we're good to go.
My experience at the x-ray clinic was awesome. No appointment needed, I walked in at 5:20 last night and I was at my car by 5:30. AND the receptionist (in having to type my birthday in) commented on how I looked so much younger than my age. Score!