Yeah, I already knew that.
The screening went well, people laughed at the right time and the applause at the end was genuine and more enthusiastic than other films. Mr. Lina felt pretty good about that. He also had a chance to meet
Tom Savini
and get his copy of Day of the Dead signed. Last year they entered a costume contest with two of the zombies from the movie (one being Mr Lina) and Tom awarded them first prize. Mr. Lina was pretty pleased to be able to give him a copy of the final movie. It seemed like Tom remembered them (well, Humphrey costume, not Mr. Lina specifically).
Mr. Lina & Tom Savini
I did manage to sneak away for a bit on Saturday afternoon to find some fabric stores. Sadly my sense of direction is not so good. I found St Hubert and Jean Talon, but went the wrong way on St Hubert. I did find a fabric store that was all kinds of crazy polyester, but they had some great bra strap elastic in colours other than black and white. By the time I figured I had walked too far and turned around, it was getting late and I was tired. In the end I did visit a handful of stores, but it was a little overwhelming at times. Stacks and stacks of fabric, most without prices on them or notes on the content. I bought two pieces, a remnant, elastics and buttons. I'll post about them when I get pictures. On the bright side, this leaves some birthday money to purchase Gertie's book.
I wore a lot of me-made clothing. Sencha going there, Sorbetto on Saturday, a cloned tank top to the bar on Saturday night. Mr. Lina took lots of pictures of me, but not many that show the me-made aspects of my wardrobe.
Honest, Sorbetto is under there. At the steps of Notre Dame Cathedral, resting my feet.
I really should revisit Sencha. I made two of them. I like them, but after the "wow I did that" has worn off, I don't love them. The neckline is too high. I don't know if I followed the button placement for either all that well but I needed to add clear snaps in between the buttons to keep it closed. I dunno, it's a good blouse, but I don't think I got either right.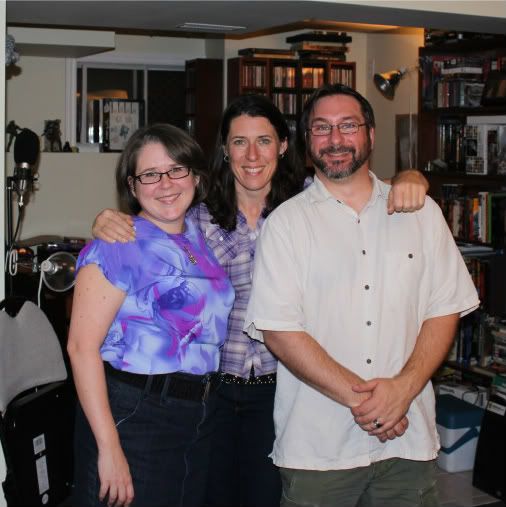 Senchs #2 with Annabelle Chvostek last Thanksgiving.
I wore the second one on Friday and I was so happy to take it off, it kept pulling forward and I found myself constantly trying to make it sit in the right place. I'd like to revisit it at some point to see if I could make it right, I feel like it should suit my figure better.
One top I have been wearing a lot is the top from
Butterick 5147
.
It's a lifestyle wardrobe and I bought this prior to blogging. I've made the top up twice, had intentions to make a dress or the skirt and just never quite did it. The first version I really made too big. I think this was prior to the enlightenment of FBA. It does fit my bust well, it's more that the shoulders are a little wide and it feels like there could be a fold at the neck. On the bright side I got the waist darts right so there is great waist/bust definition going on. I usually wear a heavy necklace to hold the neckline down and stop me from playing with the extra fabric. The second time, I made it smaller, took that fold out of the neckline. The fabric I chose had a little stretch so that was the second reason for making it smaller. Too bad I didn't think about making the lining stretch too. It has always been a little snug but okay, but I am rather certain I'd feel like a sausage in it at the moment. As much as it is a tank top, it's lined and the fabrics I chose are polyester suiting (which are nicer than that sounds). I find them too warm for summer, but in winter I put a cardigan or jacket over top and it's perfect.
The change in season has me looking at my wardrobe again. With fall arriving, I feel bored of my summer clothing. I don't want to wear socks, but it will be refreshing to pull out a few things I haven't worn in a while. And it seems some are not as worthy of favourite status and B5147 is showing me that it really should have a prominent spot in my work wardrobe.