As a trigger happy participant of the Lingerie Shop Along, I bought 5 bras from
www.brastop.com
. Overall, I'd say this was successful in buying bras but also figuring out I was one of the 80% of women not wearing the right size.
I did take pictures of myself, but I have to say they suck. It was apparently rather chilly in the room and some of the bras are a bit sheer for public consumption. So let's split this up into the three groups.
The Good
Let's start with what I'm keeping. Lucy is the best fit out of all of my purchases, in part because I bought a larger cup size. Sophia isn't a perfect fit but it's good enough it took some time to really feel the poking of the underwire on the right (larger) side. I really should go up a cup size but I wore it long enough that it's mine for now. It's not bad, it's just not great.
The sports bra is something I am comfortable sharing here. Comments in the bra reviews suggested the fit was snug so I stayed with what had been my band size and I'm glad I did, this is freaking snug. With my ankle being sprained, I haven't had a chance to take it for a test run (literally) but based on single leg hops and the feel, I could bungee jump and they wouldn't move. I am pleased on a functional level, but I can't figure out how the hell you're suppose to do this bra up on your own. See how there are two black bars across the top and bottom of the open circle? Both are hooks and eyes. They are too wide to hook both from the front and swish it around, the bottom I can do up on my own, but my arms do not reach that high and still have the angle to do up hooks and eyes. Maybe I'll figure it out with practice, but Mr. Lina had to help me out.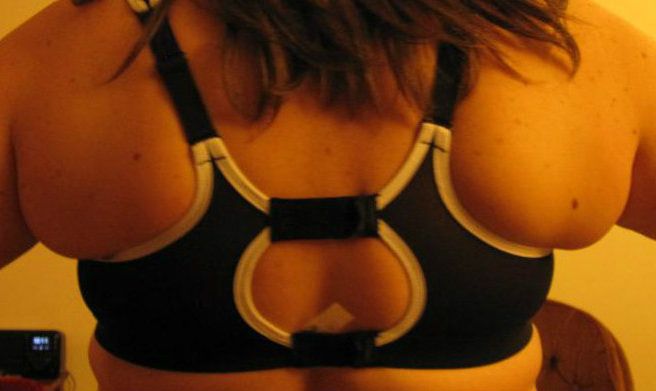 And talk about compression. There is a reason I can buy bras from these sites specializing in larger cups. Does this look like a large cup to you?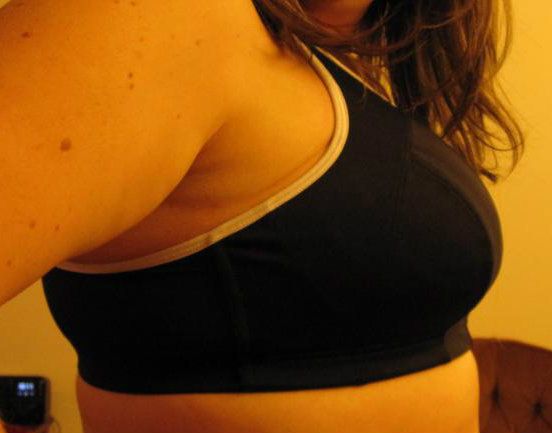 The Bad
I have known for a bit that I need to cup up so to speak. I've made bras in a larger size only for them to be too big. In the past, my bras have been 38 D. I'm 35" at the band so I wasn't adding quite 4" (or the 5" they would have suggested) but I thought I'd try some 36" bands because I liked how tight my last self made bra was. I also knew to go up a cup size. So the sports bra is a 38D, the other 3 are 36DD and the Lucy is 36E.

The problem with Monet is the 3rd and 4th breast that I get. There is a seam line that is pushing into my breast. Although the Sophia bra is a little small but not too bad, this is clearly too small on first glance. Sadly, they are sold out on the 36E. But it is really pretty, if you wear a 32DD or 32F, you may be luck.
Which leads us to...
The Ugly
Oh dear, this bra was not made for me.
First, I don't mean the bra is ugly. It's quite lovely, the detail at the band and straps is really pretty. The molded cup is not thick enough to hide the fact that it was cold but it would provide a nice seamless look under a snug shirt. The problem is fit and shape and well, everything. My breasts don't really do that nice cleavagy thing where you'd measure the high bust. It's like I'm flat and suddenly there is breast tissue. So when this bra won't change shape and wants to do whatever engineering pushes it up, this is what happens:
See how I end up with this shelf of breast within the bra? It just goes flat and the bra sits higher than my armpit. It's just hundreds of ways wrong. Even Mr. Lina was raising an eyebrow and saying things like "that looks weird". It's just not for me.
In all, 3 bras to keep, two to return and a lot learned as to what suits and what doesn't. I'm pretty sure Freya would be a good fit in a 36E. I'd try that brand again.